Build Self-Esteem Through Random Acts of Kindness

Build self-esteem in a flash by getting out of your own head and getting into helping others. Sometimes you have to get our of your own way! Doing random acts of kindness is a great way to boost your self-confidence. It makes you feel important. It makes you feel like you're part of the community, no matter what that community may look like or consist of.
We are social creatures who benefit from cooperation and working together for the common good. Feeling good about showing someone else a kindness is programmed into our DNA. Take advantage of this fact by being kinder and done random things that benefit others. It's a nice way to boost your self-esteem and benefit your community at large.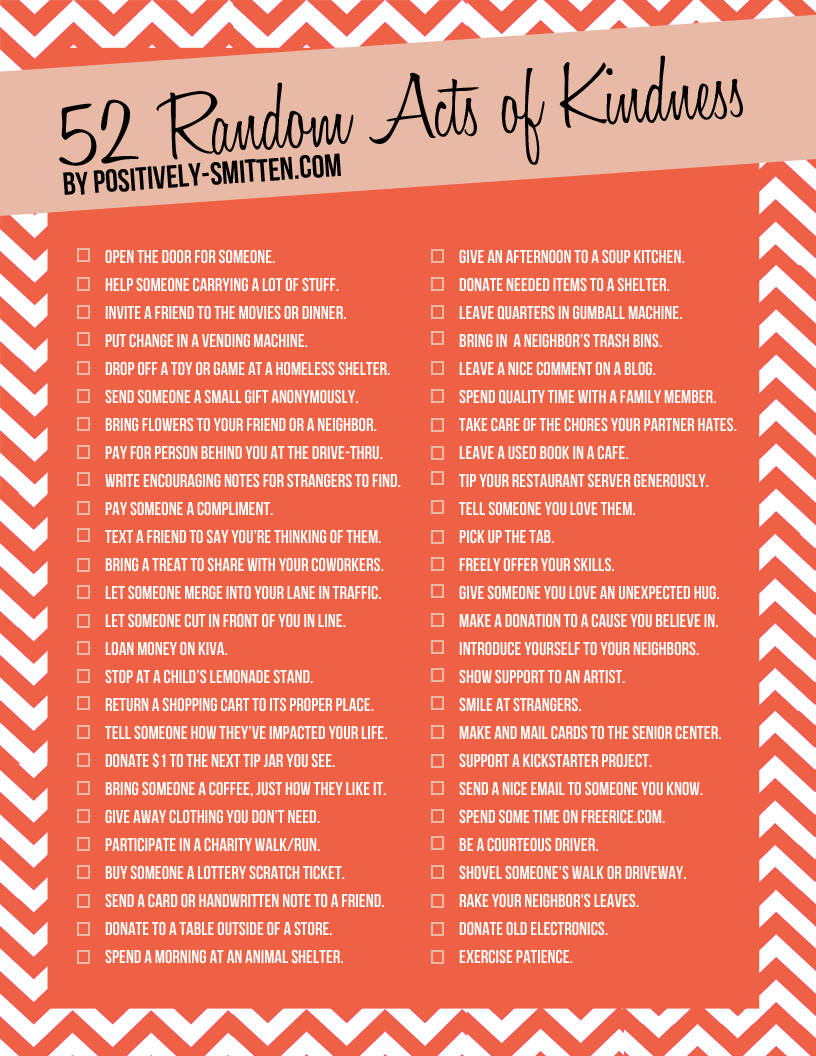 Build self-esteem:
KEEP YOUR EYES & EARS OPEN

Pay attention to the people around you and your environment. Offer to help bag and carry out the groceries for the elderly shopper in line with you at the grocery store. Help the young boy in your neighborhood study for his big math test. Offer to run an errand for a sick neighbor or stop by with some pre-made meals. Pick up the trash you come across on your daily walk. Offer to babysit for your friends with little kids who haven't been out on a date in months.
Build self-esteem:
PAY ATTENTION

When you start to pay attention to "kindness opportunities" throughout your day, you will start to notice them everywhere. They don't have to be anything big. Something as simple as holding the door open for someone else, or handing a glass of ice tea to the mailman on a hot day won't take you more than a minute, but they brighten the other person's day and make you feel good about yourself.
Build self-esteem:
THE CHALLENGE

My challenge for you today is to start paying attention to the random acts of kindness you can perform. Do your best to do something nice for someone else every single day. Send an email or text to a friend letting them know you're thinking of them. Make a phone call to check on a friend or family member. Send out a fun card, or buy a coffee for a random stranger who looks like he could use it. Give it a try and see for yourself how good these kind acts make you feel and how they boost your self-esteem.
BONUS STUFF

Here's my random act of kindness to you! My FREE Confidence Booster Hypnosis Session.
Enjoy:)